5 Impressive Advantages of A Custom Shirt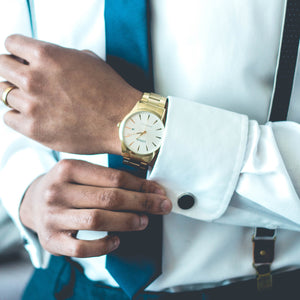 A lot of people have their comments out there regarding the sorts of choices that guys should be making about their style, and lots of it appears contradictory depending on where you hear it. If you are expecting to have the ability to get out there and actually take on the comments once and for all, the solution will be found in custom shirts. This style choice has many benefits, but we have marked our best five for you to have the ability to see how custom shirts are likely to surprise and impress you.

Consider this your mini-course if you have never looked to the world of custom shirts. You will see quite quickly why it is so popular along with everything else you need to learn about this option so you can reap all of the impressive advantages of a custom shirt for yourself.
1) It's less expensive in the long run.
We'll start here. Most of us acknowledge that custom equates to higher prices, but consider it an investment. With an excellent shirt plus the tailoring, you've got a set cost. You know the shirt is about to hold up over time, you can have it fit you "just right", and keep you looking your best regardless of what it is you are getting into. This gives you peace of mind and confidence.

With off the rack clothes, you are going to need to replace it after 2 years since it is a bit lower quality, meaning that you will need a new shirt, basically each year. In the long run, custom clothing is less expensive and it's better quality than anything else you may purchase.
2) They are exactly the design and fit you need each time.
You never get everything you're searching for if you get it straight out of the store.
You may come close, but custom tailoring is the only way that you're going to really get it how you need it. Each piece is the right fit each time, and that's essential when you're putting it together for the first time. It sounds like a walk in the park, but when it comes time to look in your closet, things can get shaky baby.

The caliber and work that goes into personalized gear means it is always likely to be the ideal match you need and will go great with anything you put it with since -- well -- it looks fantastic on you no matter what! You have to throw on an outfit when you are in a hurry? A shirt that is already tailored is going to make the difference.
3) Better dressing experience.
There are not many people who enjoy shopping for clothes but using a tailor who's an authority in the trade, you're going to receive insight on patterns, blending and matching, lengths, cloths, etc.. It is a 1 stop shop to receive the very best clothes which make you feel the finest possible with the great quality and details that put your best features front and center.


This is an extremely good way to make sure that the experience is as positive as possible. It's all done with the right thought process and with the right final result. All of it done with minimal input from you yourself as well. 
4) They'll last you a lot longer.
When you take some time to check out custom-made shirts or men's suits, then you have to adhere to the cost and see it as an investment. Bear in mind that if you drop your cash into "off the rack" clothes, you are actually buying seasonally. Custom-made clothing will last you season, after season, after season.

When you buy items made for you especially, we're talking timeless fashions, so you could use it year after year and it is never going to really go out of style. It guarantees a great look every year for you plus they fit you. How can you lose?
5) Get a fresh perspective and feel to your clothes.
The shirt you saw on the model or mannequin will be different when you put it on unless you're the same look and shape. Here comes the custom-made shirt. All these are meant to have the ability to provide you the look and feel that every man desires.

You need to be certain you look as great as the model when you place that particular shirt on so be certain you make it tailored to you. And you will, trust us.
In Conclusion
Whenever you're seeking to transform your style - and - entire world, it can be difficult to figure out how to make the changes that are likely required. Having a tailored shirt, it is painless and as simple as grabbing the one that feels the best and pairing it with the rest of your outfit. If you have one tailored shirt already, it's most likely your favorite because it's just "right" for every situation. Now, picture your entire closet being like that and you no longer have to figure out how all of the pieces worked together? It is pretty enticing.

Our introductory line of custom shirts at Legacy Lapels are made of a lovely stretch cotton that doesn't wrinkle. It's form-fitting with darts on the back so say goodbye to slouchy shirts. And they are available in 9 different bold and solid colors. Because nothing says powerful like a bold and timeless, form-fitting shirt.
They're also available for pre-order now! Just pick out your color (or two) now and send us your measurements when they go live! When you checkout and successfully refer a friend, you'll get $25 off of your second shirt. That's it!
We look forward to welcoming you to the club. The Legacy Lapels Club.